Our Union Steward Spotlight features Deb Lambert. Deb Lambert loves Halloween. In fact, she's from the Halloween Capital of the World–Anoka.
For over 20 years, Deb has been volunteering for events to support Halloween festivities in Anoka throughout the entire month of October. From parades to fundraisers, Anoka knows how to celebrate! As you will learn, Deb knows how to create connections through her volunteerism in her community and as a union steward at her store, Haug's Cub Foods Riverdale in Coon Rapids.
Ambassadors Forever
Deb is deeply involved in the Anoka Halloween Ambassador Program, which is one of the many programs Anoka Halloween has to offer. The Anoka Halloween Royal Ambassador Program supports the growth and development of young women in Anoka through scholarship, achievement, and grace. The Ambassador Program strives to foster a positive growth experience for all young women, creating higher levels of self-confidence and self-esteem. These experiences creates lasting relationships with the community, local businesses, and the historical Anoka Halloween Committee. It promotes educational success through scholarship opportunities, and the favors are paid forward when the Ambassadors return to mentor the next generation of candidates.
A few years ago, Deb's niece encouraged her to take an aspect of her volunteerism and "make it her own." So in 2016, Deb asked her employer, Haug's Cub Foods, to have the candidates for Ambassador spend the day bagging at Haug's Cub on Labor Day as a fundraiser for the scholarship. It's been a tradition ever since. In fact, Deb says that this event is now "one the girls look forward to" throughout the entire candidate process.
Deb says, "It makes me feel good to give back to the community. It's amazing to make connections with these girls. I decided that this program means so much to me that I want to donate to the scholarship in my name after I'm gone."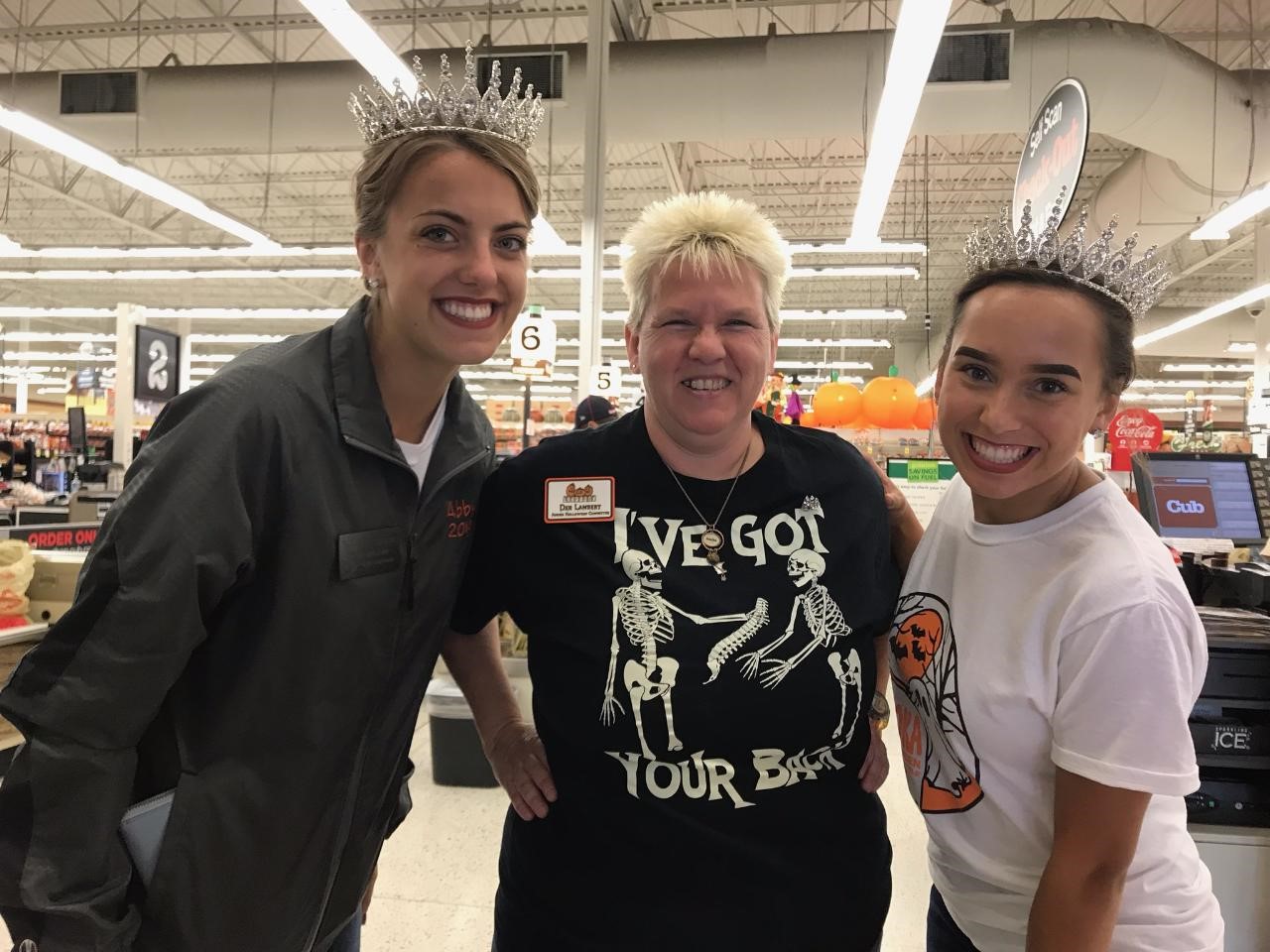 Team Work Makes the Dream Work
"Team work makes the dream work" is what Deb tells the ambassador candidates. "I see the value of community connections to stay together. The girls want to be a part of Anoka. I want them to think, "I'm proud to be from Anoka!" like I am."
Community Volunteer and Union Steward
Deb has a passion for giving back to the scholarship program because it comes from a deep connection to her past. She says, "When I was growing up, my family couldn't afford to send us to college. I want kids to succeed. I see and share their passion to help our community."
That sense of passion and commitment rings true when Deb is at work too. As a union steward, she values the connections and knows that we can achieve more if we are united and wants to make sure we all have the opportunity to make things better at work because we work so hard.
"When I joined the union years ago, I didn't know what it meant for me. Now, I know. It's about connections we have together at work. As a steward, I hope to bridge that gap and make those connections so we are stronger together."
Know that Deb's got your back at work. You can find Deb at the front end. She can help you:
Learn your union contract
Use your union benefits
Stand up for your Rights with your coworkers
Thank you Deb for the work you do at our union and how you give back to your community! If you are interested in becoming a union steward, reach out to union steward or union representative. They are listed on your union bulletin boards at work.