All across the Minnesota and Iowa, UFCW Local 663 members are getting ready to vote for their union values on Election Day this November 6.
Union Values
We've knocked on thousands of union members' doors and visited many of our worksites. We've listened to what's important to you and what can make our lives even better. We're excited to keep working together and supporting our values not only in the strong, progressive contracts we have with our employers, but also at the ballot box.
We've proudly endorsed Tim Walz for Gov and Peggy Flanagan for Lt. Gov, as well as Senator Tina Smith. We know they'll fight for us and with us to ensure working people are at the table for the opportunity to build better lives together.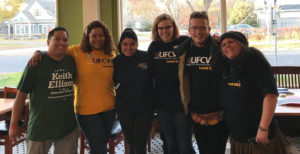 See more political action photos on our Facebook album
Here's more information where to:
Volunteer to Get Out the Vote between now and Tuesday!
Read about UFCW Local 663 endorses Tim Walz & Peggy Flanagan for Gov and Lt. Gov
View MN AFL-CIO Endorsed Candidates