By Darin Rehnelt, Union Representative
Hello everyone, our local union UFCW local 663 was a co-sponsor of the Worthington International Festival on July 9th and 10th in Worthington MN. We have been participating in this event for the last 20 years, helping to set up, assisting, answering questions, helping out food vendors and help tearing down so that the entire event runs smoothly.
This year's festivities honored the diversity in our ethnic community and recognized essential workers like our UFCW 663 family at JBS who have been working throughout the pandemic.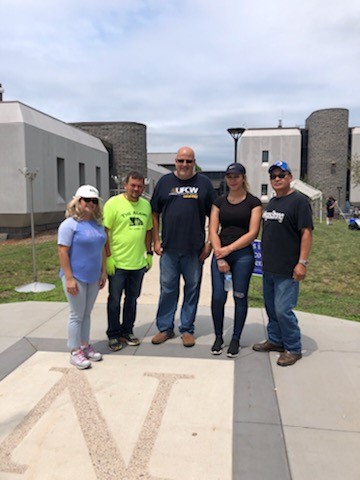 UFCW 663 Union Stewards at JBS Step Up to Volunteer
We had UFCW Local 663 staff and 4 of our union stewards assisting with this all-day Friday and tearing down everything on Saturday night. A big thanks to UFCW Local 663 union stewards at JBS: Cecelia and Mario Ramos, Nancy Caravantes and Alberto Rodriguez!
One of this year's highlights included the flags presentation. UFCW Local 663 was proud to help organize. Many multicultural entertainment groups performed–from drum ensembles to pipe playing, dance routines to rhythm and blues. There was a tremendous variety of entertainment for all to experience. Some of the entertainment featured quite a few of our very own UFCW Local 663 members from the JBS plant, especially in the dance groups.
They also had 10 to 12 different types of food vendors, from barbecue, Asian, Latino and African foods. Friday night was about 70 degrees and cloudy, but the lines for the food vendors were 30 to 40 people all day long!
Saturday morning stewards of UFCW Local 663 also helped open up the festivities. Around 10 am the weather was kind of threatening, but we only had a 20 minute shower early afternoon. After that the entertainment continued and the food vendors again did quite well! I saw a lot of happy faces with the food vendors because the crowd on Saturday afternoon was very steady, people stopped in, and they got to go bags. A lot of people took the food to go and decided to eat at home. We are grateful our community supports each other.