We're back!
In 2017, we engaged thousands of Minnesota State Fairgoers at our UFCW Local 663 kiosk, sharing who we are and about the work we do. This year, we're planning
to be there again!
The 2018 Minnesota State Fair runs Thursday, August 23 through Monday, September 3.
Members sign up
Last year, our Local 663 Executive Board members and stewards had the opportunity to volunteer at the kiosk for shifts. This year, we invite all of our members to volunteer for a shift at the Fair. You will receive a ticket to the Fair and a UFCW Local 663 T-shirt for your shift. If you are interested in volunteering for a shift at the Fair, sign up here:
http://signup.com/go/ObABDcf
You can sign up to work on the day your workplace is listed! If you are unavailable but still would like to volunteer, please sign up on a day when you can. Any Local 663 member can work on any day during the fair at our kiosk.
8/23 Festival
8/24 Corporate Cub
8/25 Co-ops
8/26 Kowalski's
8/27 Cooper's
8/28 Lunds & Byerlys
8/29 Jerry's Foods and Jerry's Cubs
8/30 Haugs, Radermachers, Driskills
8/31 Hirshfield's
9/1 Healthcare Industry workers
9/2 Open to all 653 members
9/3 Open to all 653 members
Click here to sign up for a shift.
Members' Voices
Here's what a few of our members have to say about their time at the Fair last year:
"I enjoyed seeing the kids there to participate in the drawings and having fun at the Labor Pavilion. It's like a big playground. Also, it was a lot of fun
to see people from other stores who I used to work with as well as current members who stopped by the kiosk."– David Maas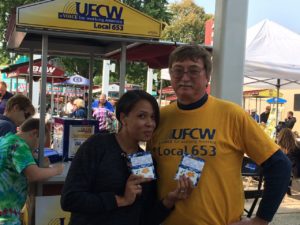 "I enjoyed interacting with fairgoers and talking about my union. People found out more about our stores and things they didn't know about, like our organic produce section at Cub Quarry." – Ryan Houglum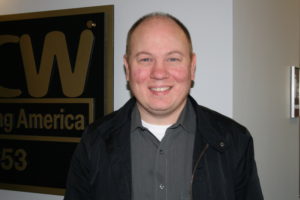 "I enjoyed meeting new people and the enthusiasm of telling people about our union and the work that we do. We got more public exposure as a union and that is great."– Terri Herrera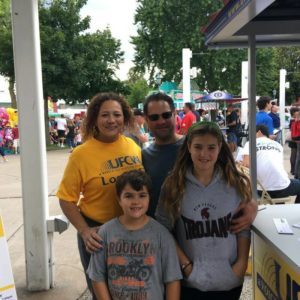 Thanks again to all of our employers who generously donated large gift cards to give away daily at the Fair in 2017! Your support of our members means so much as we show off our union employers, workplaces, and work that build better and stronger communities.