Diciembre 31, 2020
Querido Miembro:
Quiero agradecerte por tu arduo trabajo y sacrificio en este año sin precedentes. 2020 ha traído desafíos en todas sus formas: como trabajadores, como familias y miembros de la comunidad. Nuestra humanidad nos une y, a la luz de todo, perseveramos. Somos resilientes. Espero construir un 2021 más brillante contigo y más allá.
El Panel Asesor de los CDC recomienda la vacuna COVID-19 para los trabajadores de las tiendas de comestibles
Se ha anunciado que los trabajadores de las tiendas de comestibles son los siguientes en la fila para la vacuna COVID-19: http://bit.ly/2WEsUcC Nuestro sindicato continuará abogando por la seguridad de todos nuestros miembros y actualizándolos a medida que se publiquen las noticias.
Kowalski's extiende $ 2.00 por hora Hazard Pay hasta Febrero del 2021
La semana pasada, Kowalski's Markets anunció que una vez más extenderán $ 2.00 adicionales por hora de Hazard Pay hasta febrero de 2021. Aprecio plenamente su compromiso. En julio de este año, publiqué una declaración en la que me mantengo al día cuando Kowalski's extendió su Hazard Pay a nuestros miembros una vez más.
"Los trabajadores de supermercados de Minnesota han estado en primera línea de COVID-19 desde el primer día, poniéndose en peligro para asegurar que nuestras familias tengan los alimentos que necesitamos. UFCW 663 aplaude a Kowalski's Markets por reconocer los increíbles riesgos que enfrentan estos trabajadores valientes y extender el pago por condiciones de vida peligrosas a medida que los casos de COVID-19 continúan creciendo.
"En un momento en el que las corporaciones gigantes de la industria terminaron abruptamente el pago por riesgo para estos trabajadores valientes de primera línea, Kowalski's se está esforzando para hacer lo correcto y realizar esta inversión crítica en los trabajadores de primera línea que sirven a las familias de Minnesota durante esta crisis. Todas las cadenas de supermercados y minoristas, tanto sindicados como no sindicados, deben seguir el ejemplo de Kowalski e invertir en estos trabajadores esenciales para ayudar a mantener alimentadas a las familias de Minnesota durante esta crisis ".
Los trabajadores de supermercados de Minnesota todavía están en la primera línea de COVID-19. Es hora de que los directores ejecutivos restablezcan la prestación por condiciones de vida peligrosas.
Creo en reconocer a los empleadores cuando hacen lo correcto y dar crédito cuando se lo merecen. En septiembre, escribí un editorial para Star Tribune. Puedes leerlo aquí.
Nuestras cooperativas alimentarias sindicales también se han intensificado y quiero reconocer a esos empleadores también. Eastside y Linden Hills Co-op han extendido su pago por peligrosidad de $ 2.00 por hora hasta el 3 de Enero, y Seward Community Co-op lo ha extendido siempre que la Emergencia Declarada en Tiempo de Paz esté vigente.
Damos la bienvenida a los miembros más nuevos de UFCW Local 663 de Villa en Osseo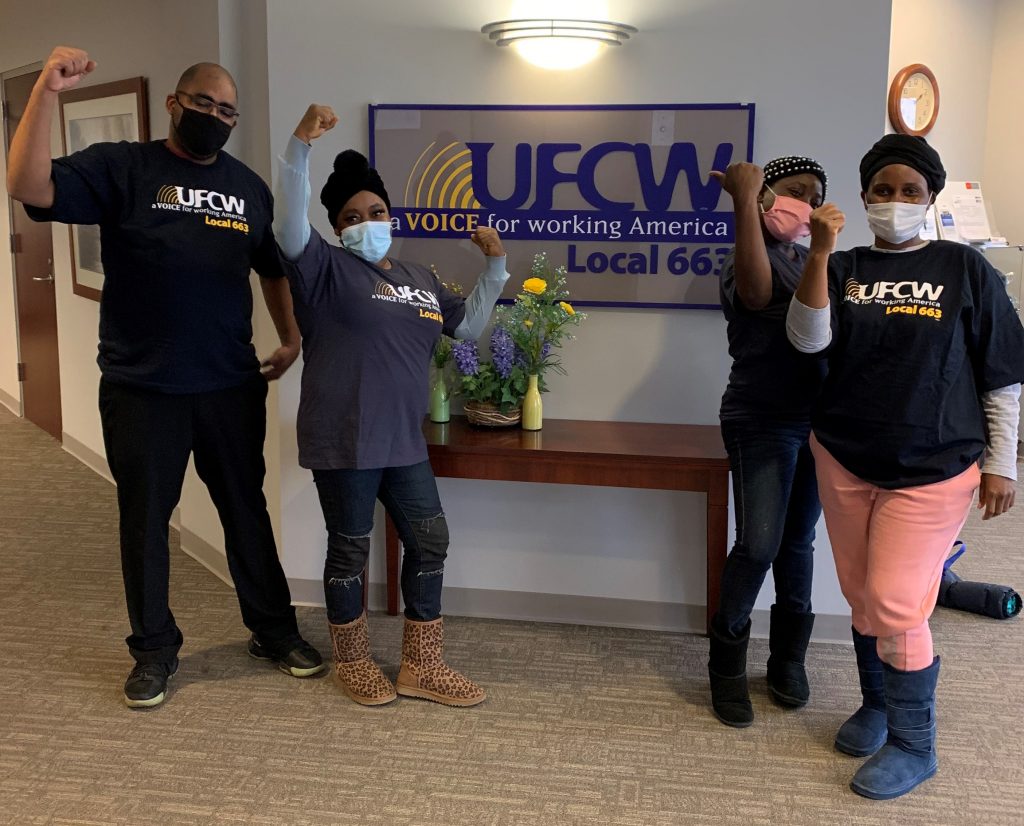 Únanse a mí para darles la bienvenida a nuestros miembros sindicales más nuevos! Los trabajadores de salud de Villa en Osseo ratificaron sus primeros contratos sindicales este mes, uniéndose a nuestras filas de trabajadores esenciales orgullosos durante la pandemia de COVID-19. Nos apoyamos los unos a los otros. Nuestro sindicato tiene un lugar para cualquier trabajador que quiera construir una vida mejor al buscar juntos salarios más altos, beneficios y más protecciones en el lugar de trabajo.
Mensaje para los miembros por parte del Presidente Perrone de UFCW Internacional
Estimado miembro de UFCW:
Si bien este último año ha sido desafiante y doloroso para esta nación, ha servido como un poderoso recordatorio de lo esencial es el trabajo que usted, y todos nuestros 1.3 millones de miembros, hacen todos los días.
Ya sea en las tiendas de comestibles, el empaque de alimentos, la atención médica, las farmacias u otros negocios esenciales, nuestra familia UFCW estuvo al frente de esta trágica pandemia nacional. Sus sacrificios, trabajo duro y determinación no solo marcaron la diferencia, sino que también ayudaron a decenas de millones de familias a superar esta crisis.
La verdad es que no hay palabras que hagan justicia a los sacrificios que tantos miembros de nuestra familia sindical han hecho y seguirán haciendo. Hemos perdido miembros y seres queridos por este virus y seguimos enfrentando la ignorancia y la irresponsabilidad de ciertos empleadores que ignoran el trabajo esencial que ustedes realizan. Tenga en cuenta que no importa lo que pueda suceder, su sindicato no dejará de luchar para protegerlo y responsabilizar a los empleadores irresponsables. De cara al 2021, debemos afrontar nuestros desafíos más urgentes de frente. Si bien el descubrimiento de una vacuna ofrece la esperanza de que regresemos a días mejores, continuaremos luchando por el pago por peligrosidad, los beneficios mejorados y las condiciones de trabajo más seguras que usted y todos nuestros miembros de UFCW se han ganado y merecen.
Gracias nuevamente por todo lo que ha hecho y continuará haciendo, y por ser miembro de esta familia sindical increíblemente diversa y orgullosa.
Que usted y sus seres queridos tengan un Feliz Año Nuevo y estén a salvo.
Sinceramente y fraternalmente,
Marc
Agradezca a un compañero trabajador de una tienda de comestibles
¿Quiere saludar a su compañero de supermercado? Puedes hacerlo y lo compartiremos con los miembros: https://www.ufcw663.org/testimonials
Mantengase Conectado
Si está en Facebook, recuerde ir a nuestra página y darle un me gusta en https://www.facebook.com/ufcwlocal663/
Para recibir estas actualizaciones de texto y otras actualizaciones importantes de su sindicato, envíe un mensaje de texto con "663ALERTS" al 83071 y asegúrese de decirle a un compañero de trabajo que se registre.
Feliz año nuevo. Mantengase a salvo.
Sinceramente,
Matt
December 31, 2020
Haga clic para español
Dear Member,
I want to thank you for your hard work and sacrifice in this unprecedented year. 2020 has brought challenges in all forms–as workers, as families, and community members. Our humanity brings us together, and in light of it all, we persevere. We are resilient. I look forward to building a brighter 2021 with you and beyond.
CDC Advisory Panel Recommends COVID-19 Vaccine for Grocery Store workers
It's been announced that grocery workers are next in line for the COVID-19 vaccine: http://bit.ly/2WEsUcC Our union will continue to advocate for all of our members' safety, and update you as news rolls out.
Kowalski's extends $2.00 an hour Hazard Pay thru February 2021
Last week, Kowalski's Markets announced they are once again extending an additional $2.00 an hour of Hazard Pay through February 2021. I fully appreciate their commitment. In July of this year, I released a statement that I stand by today when Kowalski's extended its Hazard Pay to our members yet again.
"Minnesota grocery workers have been on the frontlines of COVID-19 since day one, putting themselves in harm's way to ensure our families have the food we need. UFCW 663 applauds Kowalski's Markets for recognizing the incredible risks these brave workers face and extending hazard pay as COVID-19 cases continue to grow.
"At a time when giant corporations in the industry have abruptly ended hazard pay for these courageous frontline workers, Kowalski's is stepping up to do the right thing and make this critical investment in the frontline workers serving Minnesota families during this crisis. Every grocery chain and retailer, both union and non-union, must follow Kowalski's lead and invest these essential workers helping to keep Minnesota families fed during this crisis."
Minnesota grocery workers are still on the front lines of COVID-19 It's time for CEOs to restore hazard pay.
I believe in recognizing employers when they do the right thing, and giving credit where credit is due. Back in September, I wrote an editorial for the Star Tribune. You can read it here.
Our union food cooperatives have stepped up too, and I want to recognize those employers as well. Eastside and Linden Hills Co-op have extended their $2.00 an hour hazard pay through Jan. 3, and Seward Community Co-op has extended it as long as the Declared Peacetime Emergency is in place.
We Welcome Newest UFCW Local 663 Members at Villa at Osseo
Please join me in welcoming our newest union members! Healthcare workers at Villa at Osseo ratified their first union contracts this month, joining our ranks of proud essential workers during the COVID-19 pandemic. We have each others' backs. Our union has a place for any worker that wants to build a better life by reaching together for higher wages, benefits and more workplace protections.
Message to Members from UFCW International President Perrone
Dear UFCW Member:
While this past year has been challenging and painful for this nation, it has served as a powerful reminder of how essential the work you – and all our 1.3 million members – do every day.
Whether it was in grocery stores, food packing, healthcare, pharmacies, or other essential businesses, our UFCW family was on the frontlines of this tragic national pandemic. Your sacrifices, hard work, and determination not only made a difference, but you also helped tens of millions of families weather this crisis.
The truth is that there are no words that do justice to the sacrifices so many in our union family have made – and will continue to make. We have lost members and loved ones to this virus and continue to confront the ignorance and irresponsibility of certain employers who disregard the essential work you do. Please know that no matter what may come, your union will not stop fighting to protect you and hold irresponsible employers accountable.
Looking ahead to 2021, we must confront our most pressing challenges head on. While the discovery of a vaccine offers hope that we will return to better days, we will continue to fight for the hazard pay, improved benefits, and safer workplace conditions you – and all our UFCW members – have earned and deserve.
Thank you again for all that you have done and will continue to do, and for being a member of this incredibly diverse and proud union family.
May you and your loved ones have a happy New Year, and please stay safe.
Sincerely and fraternally,
Marc
Thank a Fellow Grocery Store Worker
Want to give a shout out to your fellow grocery store worker? You can do it and we will share it with membership: https://www.ufcw663.org/testimonials
Stay Connected
If you are on Facebook, remember to go ahead to our page and give it a like at https://www.facebook.com/ufcwlocal663/, to receive these text updates and other important union updates, text "663ALERTS" to 83071 and make sure you tell a coworker to sign up.
Happy New Year. Stay safe.
Sincerely,
Matt