UFCW Local 663 members continue to testify weekly at state public hearings on the $250 million given to Minnesota for Frontline Worker Pay. This group was created by Governor Tim Walz and Minnesota state legislators earlier in July as part of the state's COVID-19 pandemic response and assistance for essential workers.
The following are excerpts of remarks by UFCW Local 663 and Local 9 members throughout the state in public hearings held so far from all industries of our union.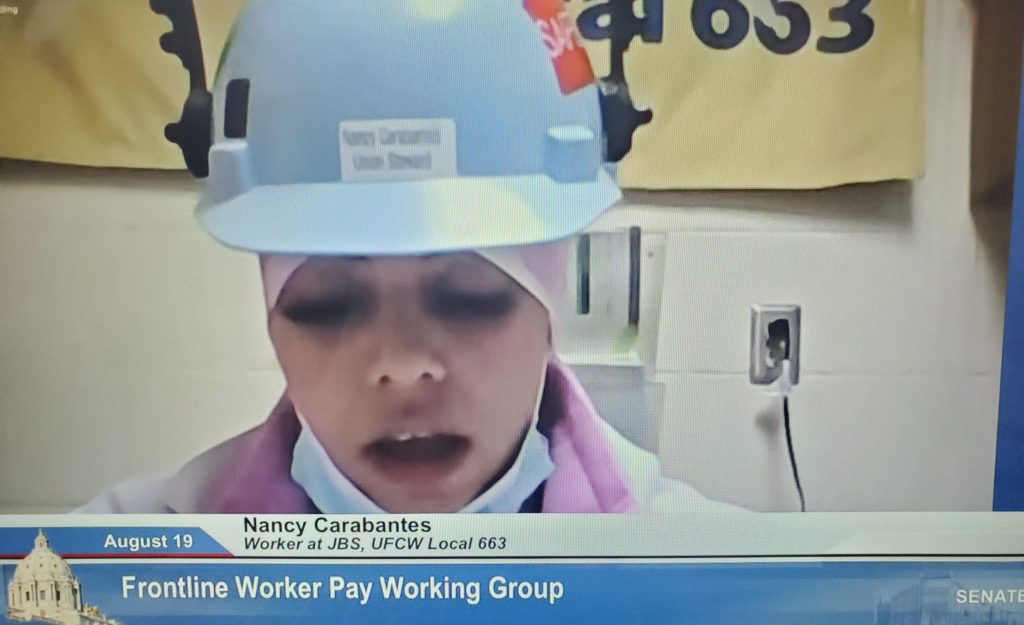 Nancy Carabantes
"My coworkers and I were deemed essential, along with my union family in healthcare and grocery–so we kept showing up for work. We kept showing up so all of us would have food available to buy for our families – throughout America and around the world where our products are shipped. You and other Minnesotans required this of us. And we are proud we did our part.

We are risking ourselves, our kids, and our community by going to work. We can't do a Zoom meeting to cut meat.

Providing a frontline worker pay bonus to all of us who showed up, and continue to show up during this pandemic, would be a sign of respect to me and my fellow union family in meatpacking, grocery, and healthcare."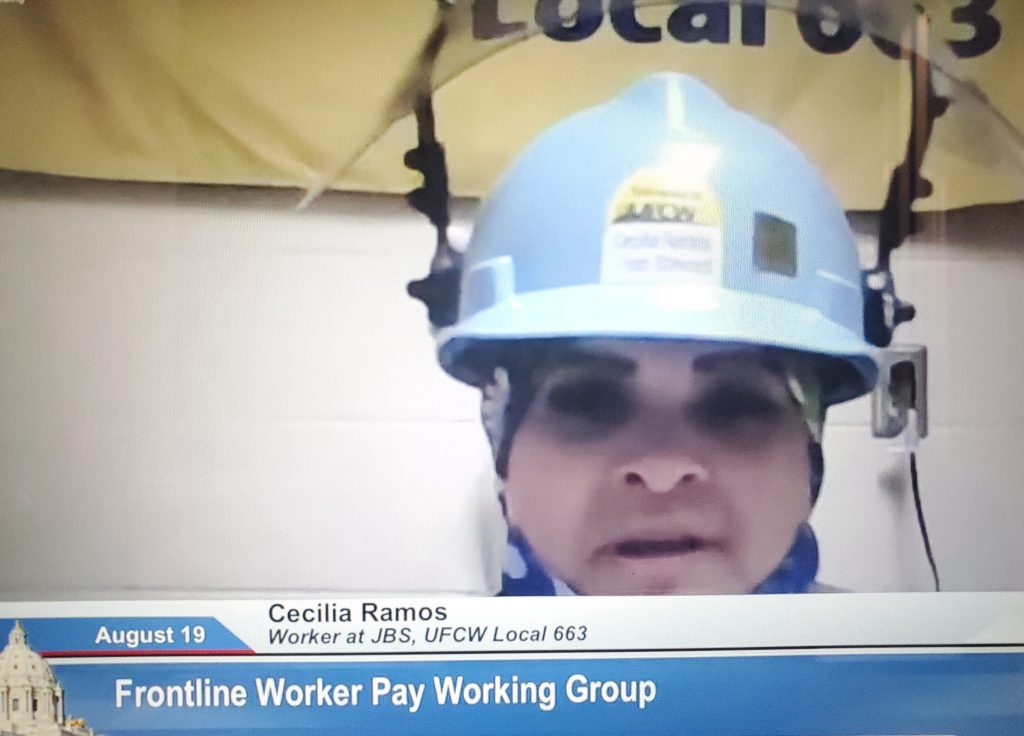 Cecilia Ramos
JBS
We felt all of the demands–from the need and demand to provide for our family, and the demand from our community to maintain the food supply chain. We were not just deemed essential workers in Minnesota – there was a national executive order using the Defense Production Act to order plants to stay open.

We are thankful for the added safety precautions at work when the plant reopened. We are also thankful for the vaccinations. And we keep going to work everyday because we hold hope that things will one day get better.

You can't say meatpacking workers and our union family of healthcare and grocery workers were essential when people needed food, care and supplies, but are not essential now when it comes to acknowledging us with some hazard pay.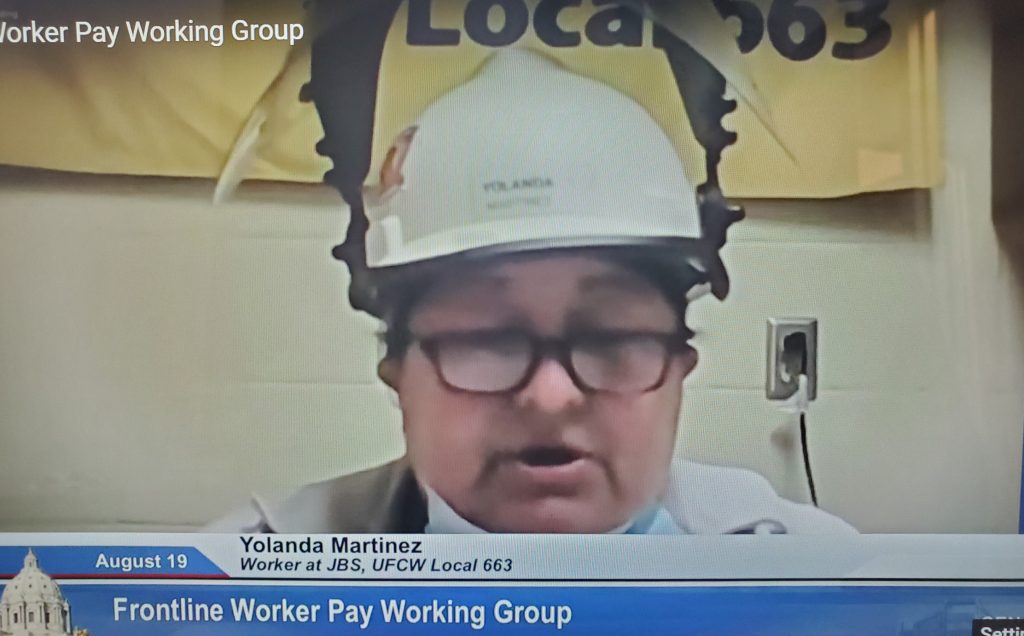 Yolanda Martinez
JBS
I fortunately have not felt sick even though I tested positive for the antibodies. My husband did get COVID around the time the plant shutdown in April of 2020 when hundreds of my co-workers also got COVID.

When I returned to the plant when it reopened in May, we were not at full capacity to keep up with the production quotas. Many times we ended up doing multiple jobs just to keep up. For example, my job is supposed to be a two person job. Right now it is only me.

When there is reduced staff – we should have reduced production quotas. When we have to work so fast to keep up with less people that puts our health at risk. Me and my coworkers' health should be valued more than keeping up the line speed.

We keep showing up to work. We keep killing hogs, cutting, processing, and packaging the meat. We deserve to go home to our families at the end of a shift in the same condition as when we left to start our shifts.

All frontline workers deserve this.

All frontline workers deserve recognition in the form of a hazard pay bonus from the funds we received in Minnesota from the American Rescue Plan. Please develop a program that honors the work we do to take care of each other. Thank you for your time.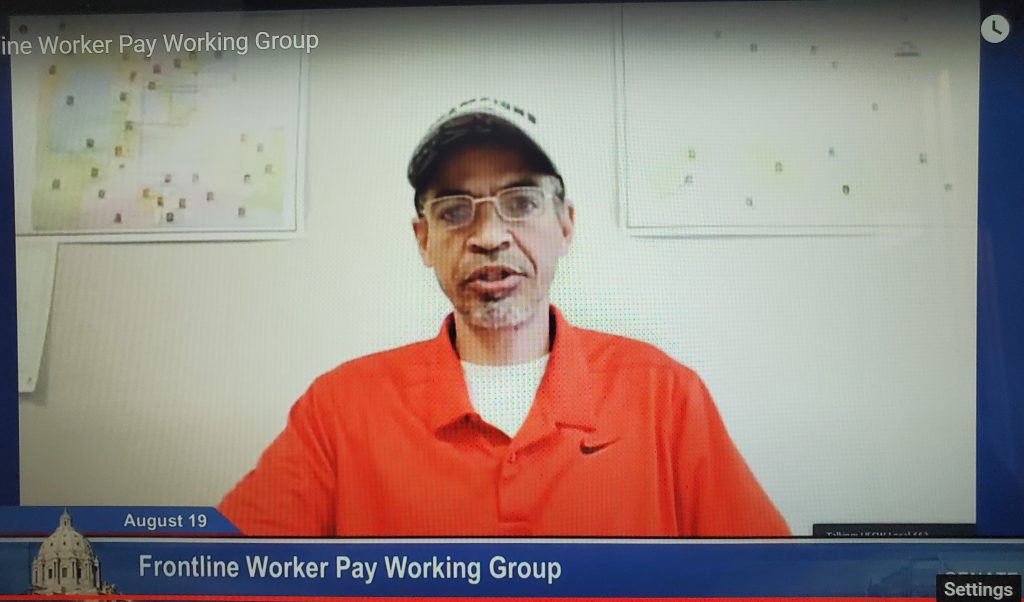 Dan Haney
Swanson Meats
Before COVID, a typical day consisted of showing up, setting up machinery, and working with staff to process food for delivery to restaurants, nursing homes, golf clubs, hotels, and donation sites. A typical shift lasted 8.5 hours.

Now, during COVID, the best day I can think of was March 17, 2020. That day, our employer signed a contract to make 40,000 lbs of ground beef a week for Cub stores. That very same day, the stay at home orders began. Everything closed down.

Well, we never closed. At all. We kept processing meat, and now 40,000 lbs more a week of it! Showing up at work was mandatory to keep the food supply chain going.

I know that my coworkers and I have done our best to show we are essential. And I hope you consider that all essential workers should have a shot at some of the recognition we deserve by these funds.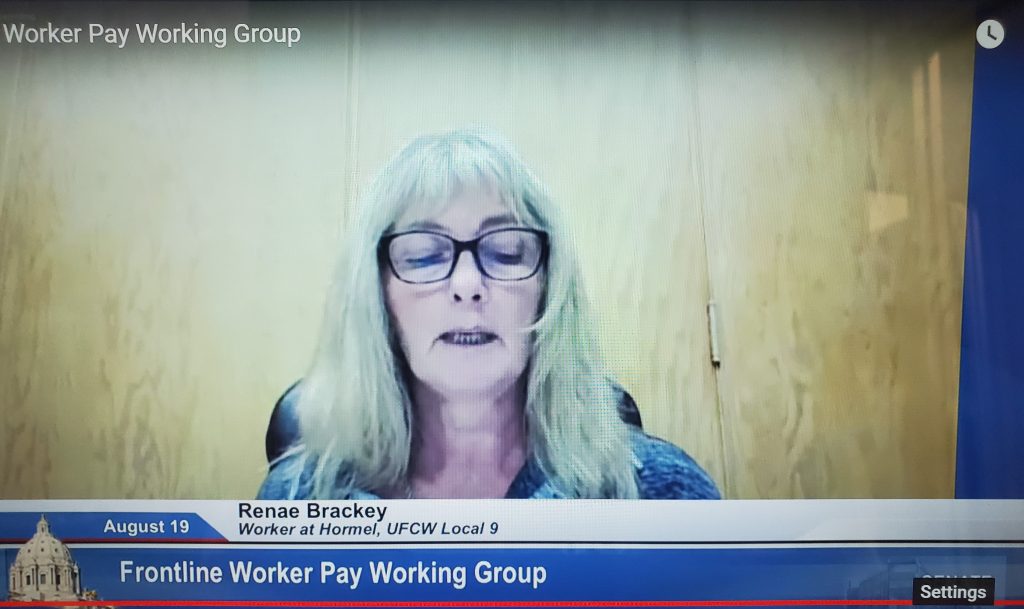 Renae Brackey, UFCW Local 9
Hormel Foods, Austin, MN
Before COVID, we had a schedule that allowed you to have weekends off and if not Saturday, at least Sunday. Once COVID hit, the majority of the Plant has been working short and working most every weekend. Some single mothers have had to quit just to take care of their kids. Also, I watched others lose their jobs having to choose between leaving their little kids home alone or go to work.
The workers were and are now scared again of what is next, who is going to get sick, and will they take the virus home to their families.

We all work side by side and we work short most days because of the pandemic and the affects it has had on our workforce.

We didn't choose to be made essential workers during this pandemic but we were deemed essential! Packing house workers across this state are proud to keep the food supply running and the store shelves full, but it has taken its toll on us. We are worn out and tired. When offices, restaurants, hair salons and other businesses were closed and others were working from home, we were face to face with the virus and still are today. We wore face shields and face masks and all other PPE to do our jobs. You have no idea what it is like to work over 8 hours in a wet face mask and a fogged-up face shield, wondering if you will be the next one to get sick!

With that said, please provide all front-line workers pay to all essential workers who kept Minnesota going through the pandemic.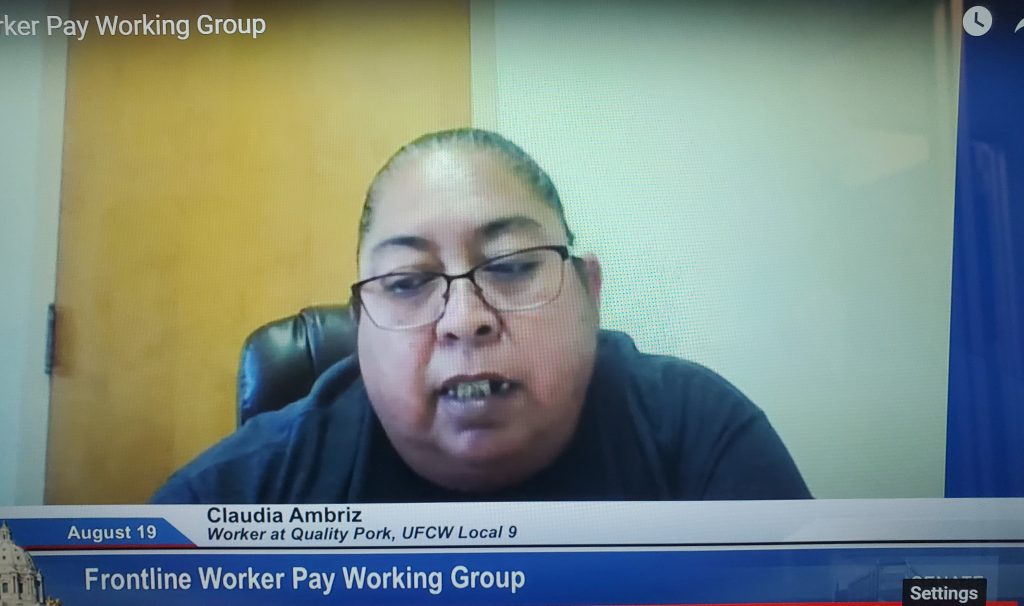 Claudia Ambriz, UFCW Local 9
Quality Pork Processors in Austin, MN
When COVID hit, I watched the virus go from department to department and from nights to days. I watched co-workers fall ill as it went through the Plant, though our neighborhoods, and the apartment buildings where my co-workers live.
I have seen some close friends who were very sick and who still suffer from the effects of COVID over a year ago. This stuff is NO JOKE!

In the Plant there are 2 main departments, the Kill and the Cut. The Kill is hot and damp, workers wore and are again wearing masks. The masks are soaking wet in no time, it's hot and only it's making a tough job unbearable and almost impossible.

In the Cut, it is cold and with a mask and face shield that steams up, it is making a dangerous job twice as dangerous.

We had no choice but to go to work each day while others could work from home or were out of work because of shut downs.

We kept the state fed. We kept going to work. We kept getting sick but we kept running. Some nights we were so short of workers hardly anyone was on their own job, but we did it because we knew it was the right thing to do.
Veronica Funubo, LPN at Villa at Osseo long-term care home, was one of the workers who organized and joined UFCW 663 last year during the pandemic because of health and safety issues and hazard pay. Veronica testified to the Working Group:
"Short staffing made us work double or triple shifts for 3 or 4 days at a time. They were extremely long days. Sometimes, I would work 5 days in a row, from 6:30am to 11pm. You had to find someone to release you from your shift before you could leave at 11 at night. And sometimes that would happen at 1 a.m.
I was exhausted, frustrated, and scared. I saw my coworkers not show up for shifts. But I held on. I held on for myself, my family, and for the residents.
We must do better for all healthcare workers to raise wages and protect workers. All frontline workers deserve additional frontline worker pay in Minnesota. We are still putting our lives on the line. We deserve something better."
Minnesota meatpacking worker member Antonio Jimenez, UFCW Local 663 member at the JBS pork processing plant in Worthington: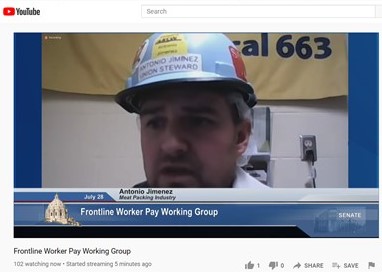 "In the spring of 2020, a COVID outbreak tore through my plant and I was one of the workers who got sick. I was out sick for weeks. I worried the whole time about passing the infection on to my children, family, and friends. My union provided me with information and resources so I could go on short-term disability. Most people I know have at least a couple friends who got COVID. In my plant, more than 50 percent of the workers got COVID.
While things have improved, COVID is still here in our community, and it's still here for me, personally. I still struggle with the after-effects – lingering symptoms and fatigue. I support frontline worker pay for meatpacking workers because we have worked to keep this state fed and exposed ourselves and our families to extreme risk in doing so."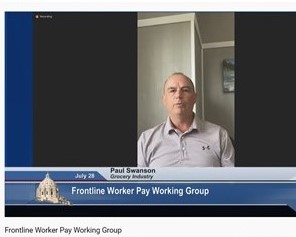 Minnesota grocery worker Paul Swanson, a UFCW Local 663 member at Lunds & Byerlys grocery store Wayzata, also testified, saying:
"The initial impact of COVID-19 for myself and my co-workers was the rush of customers during the hoarding phase. We went from doing regular business to three times the business overnight.
A big impact was COVID protocols at work–if anyone had a covid exposure, you had to quarantine for 14 days without pay. This meant my coworkers who are part timers had no vacation and lost income. Those of us with vacation would have to choose to use vacation to be able to get a paycheck. COVID definitely created financial hardships for grocery store workers. Please include grocery workers as an eligible industry for frontline worker pay."
UFCW President Utecht said: "Minnesota's grocery, meatpacking and healthcare workers did not sign-up to risk their lives, but they have been coming to work throughout the COVID-19 pandemic and serving their communities. Our members, and all frontline workers deserve to be compensated for the extreme risk that they and their families face every day. Minnesota should use some of the federal COVID-19 funds to provide premium pay for essential frontline workers this year."